8 LAN 10Gig Fiber SFP+ 4G NGFW Firewall 1U Rackmount Server
Availability:
In stock
1 Year Warranty
UK Free Shipping
Product Code: NSHO-001
PONDESK network firewall router 1U rackmount server equipped with LGA 1150 series 4th gen. Intel® Core™ i3-4160 processor (i5 & i7 CPU are optional) and Intel® H87 High-Speed chipset. Highly reliable 1U network appliance with 8x Intel® 82574L gigabit Ethernet and four 10 Gig SFP+ fiber ports (optional) for high bandwidth and long-distance communications. You can add multiple LAN's or multiple WLAN's to your network, each segmented for maximum security and configurability.
Integrated 2 Group BYPASS allows the two networks (1 to 2 and 3 to 4 LAN) to provide an alternative route in power failure or crash. When bypass enables then traffic passes if it's disabled then nothing passed. (Refer to datasheet for details)
A complete network hub as a VPN, equipped with RJ45-DB9 COM (Cisco Standard) and to take on a number of networking and communication tasks and can be used as a security gateway to act as a virtual private network and firewall. Support Intel® AES-NI for secure and fast data encryption and decryption and network wake-up/PXE function, watchdog hardware reset function (L256, 0~255 seconds).
The server comes with two DDR3 SODIMM memory sockets, which support up to 32GB non-ECC memory. Support four storage drives including one mSATA SSD and three 2.5" SATA SSD/HDD storage. Supports wireless networks 802.11 b/g/n Wi-Fi and 3G/4G LTE WWAN via mini PCIe express slot (support one network WiFi/4G at a time). I/O options include two USB 2.0 ports, a serial console port, and a VGA display port feature Intel® HD Graphics.
Suitable for VPN, DNS Server, DHCP Server, network bandwidth controller, firewall and UTM applications to deliver high throughput, reliable operation, high performance and a wide array of network applications, Mikrotik, firewall, and gateways like pfSense, Sophos, Untangle, Linux, Unix, and Windows, etc.
Features:
Security Gateway, Firewall Router, Rackmount Server
Support Intel® i3/i5/i7 Haswell 4th Generation Processor
Intel® AES-NI and Secure Key
8x Intel® 82574L Gigabit Ethernet
Support Wake on LAN/PXE
Integrated 2 Group LAN BYPASS
Four SFP+ 10Gig Fiber Ports (optional)
RJ45 Console (CISCO Standard)
VGA Display, USB 2.0
Intel® HD Graphics
Support WiFi/4G LTE WWAN Networks (optional)
Support up to 32GB SODIMM DDR3L Memory
Support Four Storage Drives (mSATA & 2.5" SATA SSD/HDD)
Ready for IoT - Simply Connected Using WiFi/4G LTE via Mini PCIe
Support Windows/Windows Server/Linux/Unix/Firewalls and MikroTik RouterOS etc.
Support Hypervisor VMware ESXi and VirtualBox etc. (with i5 and i7 CPU)
Can be configured as a Firewall, LAN/WAN Router, VPN, DNS Server, DHCP Server, etc.
Perfect for Security gateway, VPN, and Firewall such as pfSense, Untangle, Sophos, Debian, Smoothwall, ClearOS, m0n0wall, etc.
Optional CPU Selection:
- NO CPU (Barebone + Heat Sink) 
- Intel® Core™ i3-4160 Processor (3M Cache, 3.60 GHz) [Default]
- Intel® Core™ i5-4590 Processor (6M Cache, up to 3.70 GHz)
- Intel® Core™ i7-4790 Processor (8M Cache, up to 4.00 GHz)
CPU Comparison Specs: https://ark.intel.com/compare/77488,80815,80806
Specifications:
System

Type

Network Server

Model

NSHO-001

Part Number (P/N)

NO014G1UND8L4F

Processor

CPU

Intel® Core™ i3-4160

Socket

LGA 1150

Generation

4th Haswell

Chipset

Intel® H87 chipset

Processor Base Frequency

3.60 GHz

TDP

54W

Instruction Set

64 bit

# of Cores

2

# of Threads

4

Cache

3 MB SmartCache

Optional CPU

Intel® Core™ i5-4590 Processor (6M Cache, up to 3.70 GHz)

Intel® Core™ i7-4790 Processor (8M Cache, up to 4.40 GHz)

Memory

Size

Support up to 32 GB (optional)

Type

SODIMM DDR3L 1.35V Low Voltage (non-ECC)

Slot

2

Storage

mSATA SSD

Support 1 x mSATA SSD (optional)

SATA SSD/HDD

Support 1 x 2.5" SATA SSD/HDD (optional)

Support 2 x 2.5" SATA SSD/HDD OR 2 x 3.5" SATA HDD (optional)

Graphics
(i3-4160)

Processor Graphics

Intel HD Graphics 4400

Graphics Base Frequency

350 MHz

Graphics Max Dynamic Frequency

1.15 GHz

Intel® Quick Sync Video

Yes

Intel® InTru™ 3D Technology

Yes

Intel® Clear Video HD Technology

Yes

Advanced Technologies
(i3-4160)

Intel® Hyper-Threading Technology

Yes

Intel® Virtualization Technology (VT-x)

Yes

Intel® VT-x with Extended Page Tables (EPT)

Yes

Intel® 64

Yes

Enhanced Intel SpeedStep® Technology

Yes

Thermal Monitoring Technologies

Yes

Security & Reliability

Intel® AES-NI

Yes

Secure Key

Yes

Expansion Slot

Optical Fiber Port

PCIE 8X

mSATA

Yes (For mSATA SSD)

mini PCIe

Yes (For WiFi/WWAN module)

I/O Specifications

LAN

8 x Intel® 82574 Gigabit Ethernet

Support Network wake-up /PXE function

Integrated 2 Group BYPASS (Control 1 2 and 3 4 LAN)

Fiber Ports

4 x Intel® 82580DB SFP 1Gig Interfaces (optional)

4 x Intel® XL710-BM210 SFP+ 10Gig Interfaces (optional)

COM

1 x RJ45-DB9 COM (CISCO Standard Definition)

Display

1 x VGA

USB

2 x USB 2.0

WiFi

802.11 b/g/n (optional)

3G/4G

optional

Indicator

1 x Power LED

1 x HDD LED

OS

Windows

Support Windows 7/8/10 (not included)

Firewalls

Support pfSense, Untangle, Debian, Sophos, etc. (not included)

Power and
Working Environment

Power Input

AC 100-240V 50/60Hz

Type

Internal ATX PSU

Operating Temperature

-10C ~ 60C

Storage Temperature

-20C ~ 70C

Relative Humidity

5% - 95% (relative humidity; non-condensing)

Vibration

0.5g rms/5-500HZ/random/operating

Compliance

Approvals

CE

Regulatory

IEC 60950, EMC Emission EN 55032, EN 61000, EN 55024

Others

BIOS

AMI 64MB Flash ROM

Cooling Type

Processor & System FAN

Watchdog

Support Hardware Reset Function (L256, 0~255 seconds)

Size

430mm x 360mm x 46mm (L*W*H)

Gross Weight

Approx. 8 KG

Package

1 x Network Server, 1 x Power Cord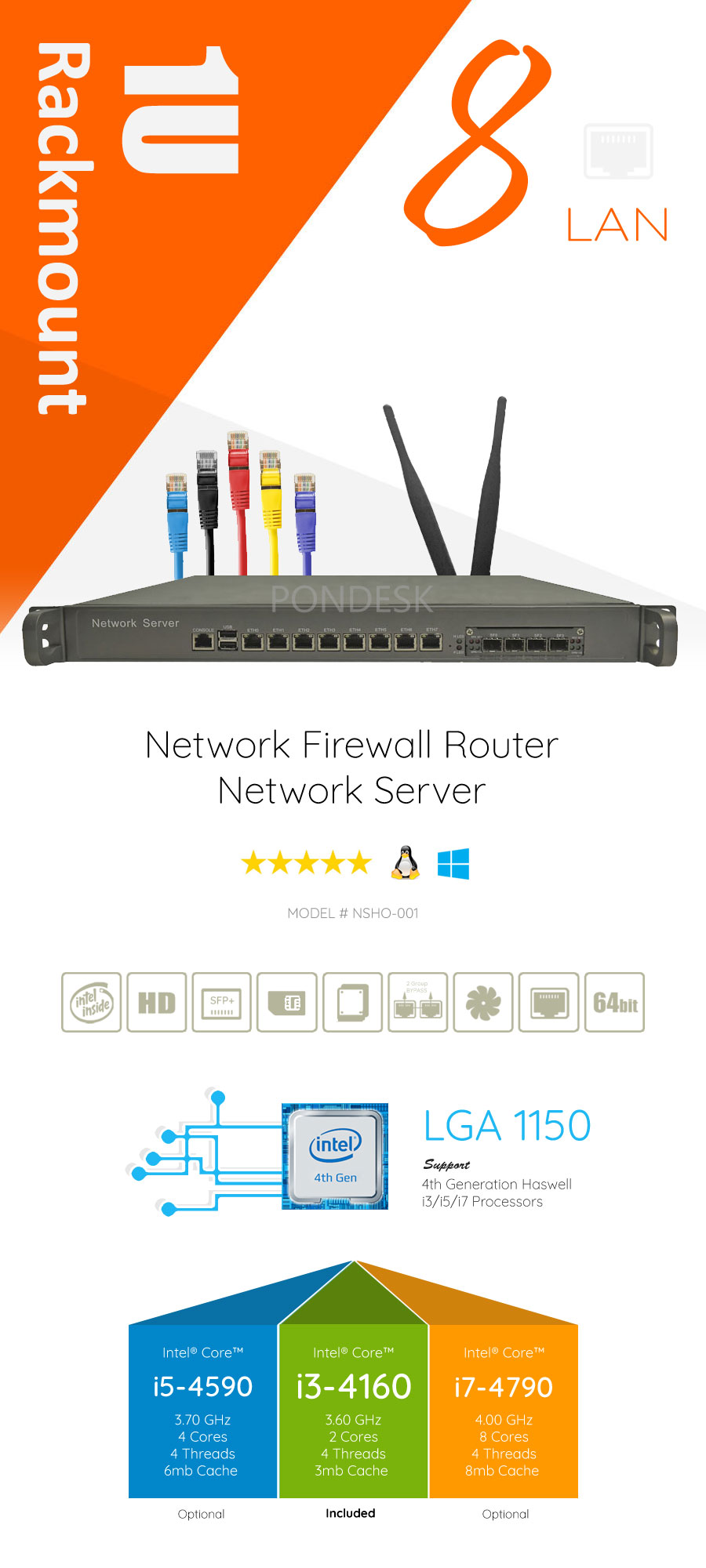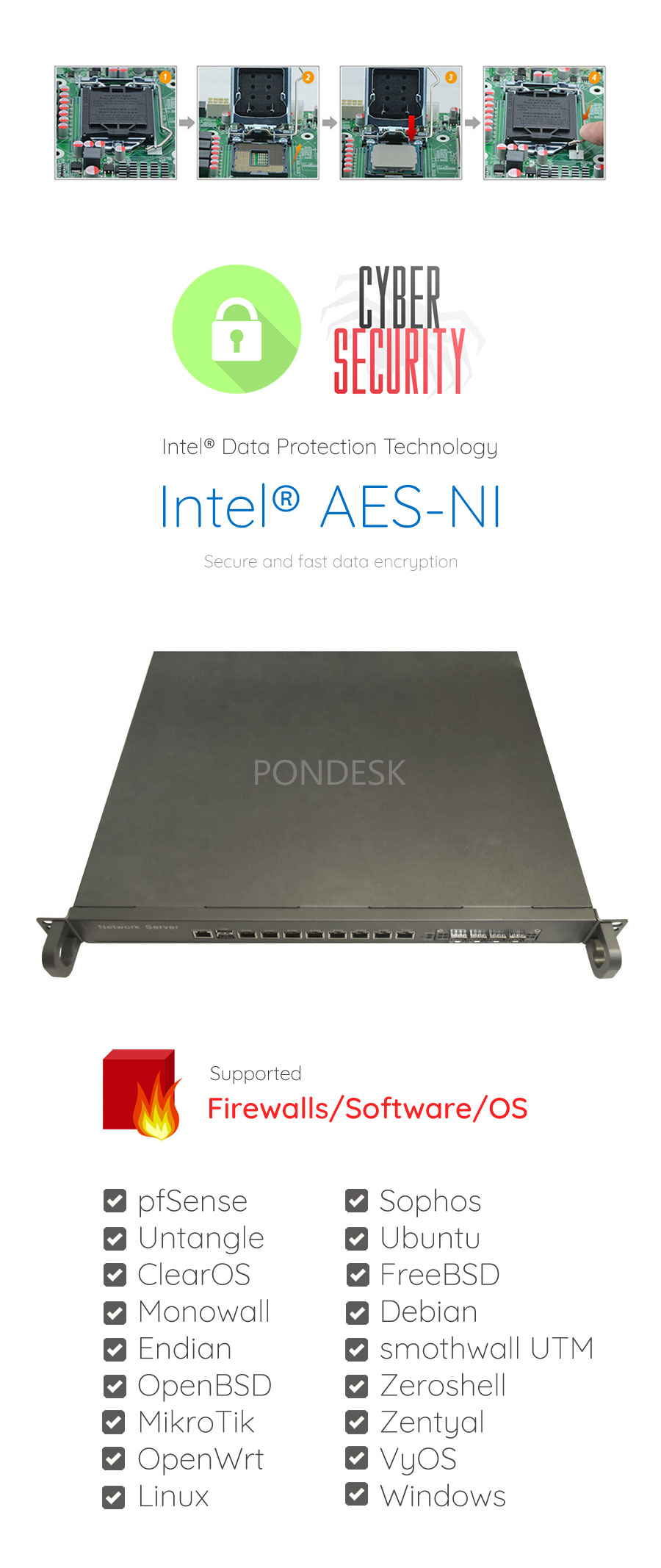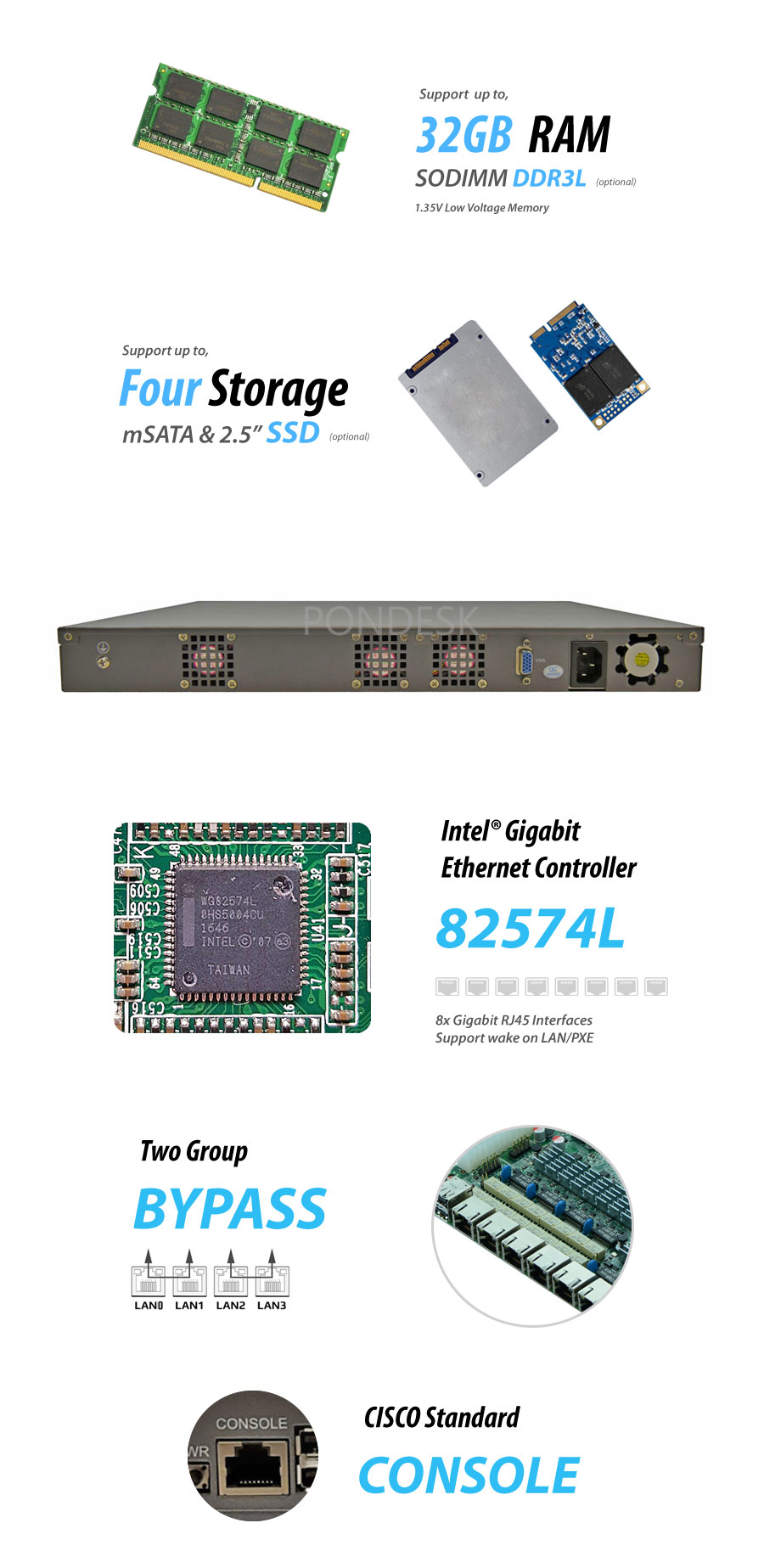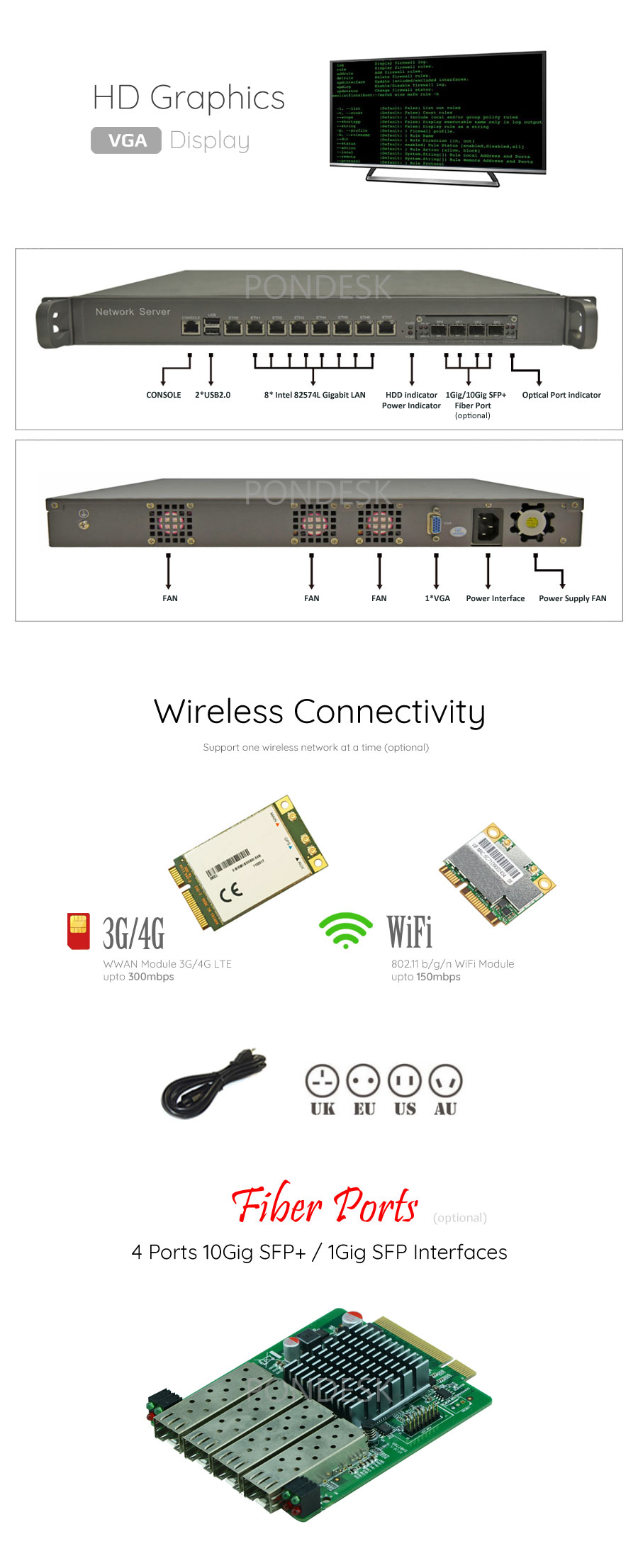 We can't find products matching the selection.